Tired of LSA's Racist Trolls, Lying and Deceitful Admins and Staff, Child-Porn Pop Ups, Unstable Servers? Join The Black Board and experience the New Hotness! Spread the word!! And enjoy that piping hot tea LSA don't want you to read

LSA ULTIMATE TEA THREAD

(Now locked to members only)

Follow The Black Board On All of your Social Media Accounts, Check Out and Like our

FACEBOOK

page, and follow us on

TWITTER

Dismiss Notice

Announcing an Exclusive Partnership With BYNK Radio. A 24/7 Online Hip-Hop Top-40 & Underground Hip Hop and Talk Radio Station. Click For Details

BYNK Radio Partnership

Dismiss Notice
The Black Board | African American Message Board | Black People Discussion Forum
Hey guys, and first of all don't be scared!!!!

as i'm sure you noticed I am not around as much anymore. In real life I have inherited a lot of responsibilities, I run and am an engineer for the largest Black-Owned Independently Owned Radio Station in my state, my own podcast show won a National Award for the Best News Podcast in the country, and I am a Community Outreach Coordinator for a large community organization.

With some of my new connections I am beginning the initial stages of a new Organization I am part of ran by Tariq Nasheed --- I am looking into having some of them, maybe even him himself take "control" or moderate this forum actively.

I will still own it monetarily but there will be a new presence, a influx of some members, and even possibly new branding and title for the site (Maybe under Tariqs "Melanoid Nation" branding) "

please tell me you alls thoughts and how you would feel
Lets Discuss (in pictures) why Black Women are the greatest thing on this planet, friends.
Tyson Beckford
and
Kim Kardashian
are currently beefing, and it's being played out on social media.
It started when the longtime model posted a photo of Kardashian and not only suggested that she got plastic surgery but the surgeon messed up her body.
Instagram
"Sorry. I don't care for it personally," wrote Beckford under a picture of Kardashian sporting tight blue pants. "She is not real. Doctor f—– up on her right hip."
The reality star eventually shot back and seemed to suggest that Beckford is gay, which is why he's not attracted to her.
"Sis, we all know why you don't care for it," she wrote.
Eventually, Beckford doubled down on his opinion that he doesn't like women who use surgery to enhance their bodies and said he'll "always pick the Beyoncé types over anyone else."
He also responded with two shirtless photos and denied being gay....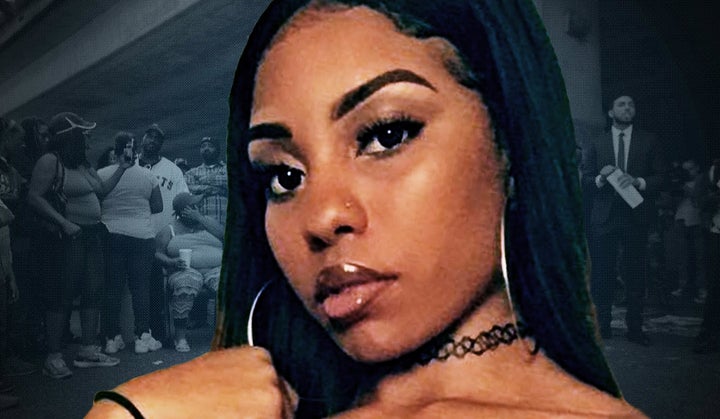 On The Killing Of Nia Wilson And The Anxiety Of Being A Black Woman

Something I can't stop thinking about: Latifa Wilson, describing her last moments with her 18-year-old sister Nia Wilson who was stabbed and killed by John Lee Cowell on Sunday:

"She's just yelling my name, 'Tifah, Tifah, Tifah,' and I said, 'I got you, baby, I got you. Just calm down,' because she has real bad anxiety."

Amid the pain and horror of the attack, yet another reminder of what it means to be a black woman in America, a part of me couldn't stop thinking about the significance of the panic, the trauma of what the Wilson sisters experienced, and the panic, the trauma that all black women experience.

I couldn't stop thinking, also, about what it means to be a black woman living...

Starting today.....Each day I will be dropping all the stories of white male domestic terrorist acts abroad or here in Amerikkka by their gestapo force or general population.....about time to start keepin tags on these genetic defects....I implore each one of you to drop any story or news you come across in this thread....

07/22/18 - 27 Year Old John Lee Cowell ambushed two black sisters and killed 18 Year old Nia Wilson with a knife.

Yet another act of terror by the same beasts we've been forced to be around for the past 500 plus years. Got to start hitting them back or separate, its the only way for survival and sanity.

06/17/15 - Dylann Storm Roof, 21, White male(State Sponsored Assassin hired by White supremacist orgs and the government to assassinate Senator Clementa Pinckney) - Walked into a historically renowned Black church during a Bible study on June 17th 2015 and sat for an hour...
Young, beautiful, full of life, young sister a victim in this centuries old game these devil's are playing. Like I told y'all...stay far from these beasts as much as you can, for health and sanity...... rip youngin
Such sorrow in the events I see going through this page, some of these I had never heard of........a lot of attention is never paid to black women and the abuse and violence they endure in our community, which a lot of it is fueled by misogynist thought and ideals........

ILLUMINATING A NATIONAL TRAGEDY THROUGH STORIES THAT NEED TO BE HEARD
(Link Below)
Home
You know the sister's video I'm going to post will go more in depth also. Now i'll post the sister's video I've known for some years and her explanation also below.





But its a clear cut explanation imo. We don't mix with Capitalism, it is a slave system set up off of slavery and basically is slavery by another name. Capitalism's cover story is that it is a social system based on the principle of individual rights, that infuse energy via production resulting in a free market, which for Black people also is a warning and hint as to why this wasn't, is not and will not be something that we can employ while being integrated with a caucasion colony. The fact that their "Wall Street" was not only built by an actual slave force and where our ancestors are buried beneath, but we were first sold as the first market of Wall street, yet we are still treated like second class citizens socially and economically, and have not been paid our...
These are companies,corporations and any other entity around the world that was founded, benefited, and either is defunct now, and/or has a new name or subsidiary that it changed to and still benefits and sustains the racist parasitic Capitalist structure.
AIG - bought American General Financial which owns US Life Insurance Company. US Life used to insure the lives of slaves.
Aetna
– insured the lives of slaves in the 1850s.
Bank Of America - grew in part out of the Bank of Metropolis, which accepted slaves as collateral.
...